INDEPENDENT
PERFORMANCE
DATA
Pivot Bio collaborates with multiple universities to conduct structured trials to demonstrate that our breakthrough replacement for synthetic fertilizer maintains or improves yield while delivering on our promise: helping growers achieve better profitability, predictability, safety, and sustainability.
Studies confirm Pivot Bio's microbial nitrogen efficiently and reliably replaces up to 40 pounds of synthetic nitrogen per acre while maintaining yield and providing environmental benefits, including:
Nitrate leaching can be reduced by an average of 10 kilos of nitrogen per hectare (~9 pounds per acre) with the use of Pivot Bio PROVEN 40.

When combined with a Pivot Bio proprietary carbon additive, corn treated with PROVEN 40 could increase its yield advantage by up to 11 bushels per acre.

Higher yields and about $12.50 per acre in additional revenue were the results of a three-year study.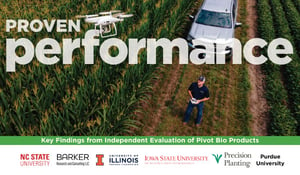 We work with leading academic institutions on structured trials to help advance agricultural technology and innovation to the benefit of farmers, their operations, and the environment.
Academics and independent researchers work with Pivot Bio agronomists to design trials with protocols that reflect on-farm conditions and are stewarded according to label directions, resulting in high quality data the agricultural community can rely on.
DISCLAIMER: These reports and the data provided herein are for information purposes only and DO NOT constitute an endorsement or recommendation by any university or third party identified herein for the use of Pivot Bio products.